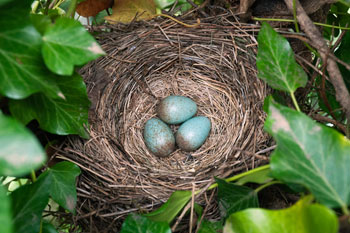 The RSPB has urged local authorities not to cut back hedges or trees until September, warning major work can destroy habitats and nests.
The charity said work being carried out too early by councils and developers led to nearly a thousand active nests being destroyed last year. A third of habitats destroyed were a direct result of action by local authorities in 2015.
Colin Wilkinson, senior conservation officer at the RSPB, said: 'We recommend holding off major work on trees and shrubs until late summer, and use the time to evaluate what will need doing and schedule the works to the autumn and winter season, when the risk of conflict with nesting birds either in vegetation or in buildings is at its lowest.
'A little bit of forward planning will go a long way to winning and maintaining public goodwill.'
The RSPB has previously written to all local authorities to remind them of the legal protection afforded to all wild birds and their active nests. It also calls on councils to reduce the use of pesticides, promote native planting over exotic species and opt for drought tolerant planting.