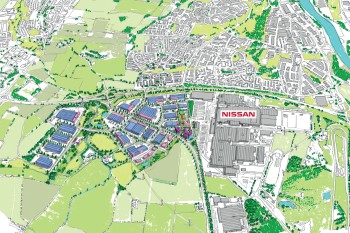 South Tyneside and Sunderland City Councils have appointed a new development partner to drive forward a project to deliver more than 5,000 jobs in the region.
The councils have selected Henry Boot Developments Limited as development partner for the International Advanced Manufacturing Park (IAMP).
IAMP will attract more than 5,000 jobs and bring in more than £300m of private sector investment over the next ten years.
'There is a huge opportunity for both South Tyneside and Sunderland to further expand their capacity when it comes to advanced manufacturing,' said cllr Iain Malcolm, leader of South Tyneside Council.
'We know already that there is strong interest from investors keen to capitalise on the fantastic assets the North East can offer businesses in the manufacturing sector.
'We have only scratched the surface when it comes to the economic opportunities this sector can create for the North East, and the IAMP is the key that will unlock that potential. We expect there to be a huge level of interest from international businesses looking to base themselves on a purpose-built development with infrastructure to support their needs.'
The Government has already committed £42m to the infrastructure at IAMP through the North East Local Enterprise Partnership.