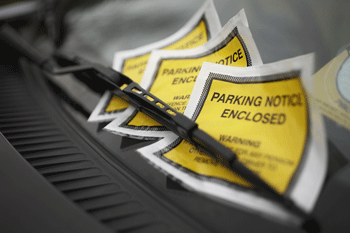 Council chiefs were again forced to defend use of CCTV for parking enforcement, after campaigners claimed town halls used the technology to rake in £312m in fines.
Local government minister Brandon Lewis this morning pledged to 'clampdown' on the 'abuse and misuse of parking CCTV' as it emerged at least 70 town halls were using static CCTV and/or surveillance cars to capture traffic offences.
Freedom of Information requests issued by Big Brother Watch suggest local authorities used CCTV equipment to issue £312m of Fixed Penalty Notices between 2008 and 2013.
Figures suggest drivers in the capital were hit hardest, with London boroughs collecting 90% of the raised revenue.
Communities secretary Eric Pickles has historically slammed local use of CCTV to support 'over zealous parking enforcement', branding CCTV 'spy' cars a 'step too far'.
Deputy director of Big Brother Watch, Emma Carr, said: 'The Government rightly wants to reign in this unjustified surveillance, so councils are turning to desperate arguments about public safety to justify their cameras, despite having absolutely no evidence to back up their claims.
'The fact that no councils publish proper statistics about how these cameras are used highlights that many know that their CCTV operation is about raising money, not about public safety.'
Responding to the report, Lewis said: 'It is clear that CCTV is being used to raise money in industrial volumes for town halls, breaking the constitutional principle that fines should not be used as a source of revenue.
'If parking is too expensive or difficult, shoppers will drive to out of town supermarkets or just shop online, undermining the vitality of town centres and leading to "ghost town" high streets.
'That's why the Government intends to clampdown on this clear abuse and misuse of parking CCTV.'
However, the Local Government Association (LGA) said it was 'frustratingly familiar' to hear Big Brother Watch 'peddling the myth' that councils are enforcing parking regulations 'just to raise money'.
'Road safety campaigners, schools, disability and pedestrian charities and councils have all come together to warn the Government that banning CCTV parking enforcement will put school children and disabled pedestrians at risk and worsen road safety,' Cllr Peter Box, chair of the LGA's Economy and Transport Board, said.