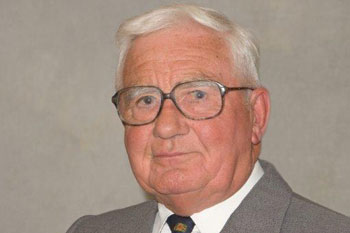 One of the country's longest serving councillor has announced he will step down after serving his borough for a remarkable six decades.
Cllr Godfrey Olson OBE has decided to retire his seat on Eastleigh Borough Council at this year's council elections in May after 61 years.
Joining the council in 1955, Cllr Olson represented Chandler's Ford and Hiltingbury and was the leader of the borough's Conservative Group.
He was mayor on three separate occasions (1961-62, 1976-77 and 1997-98) and in 1977 he was made a Freeman of the Borough.
In 1994 he received an OBE for his services to the community.
The octogenarian councillor also worked as an estate agent and, it is said, has never missed a full council meeting.
'I would like to thank the electorate of Chandler's Ford and Hiltingbury for supporting me for the 61 years that I have served and it has been a privilege to represent them,' Cllr Olson said.
I would also like to thank the many colleagues that I have served with, and the council staff for always being cooperative and helpful.'
In 2015, he received engraved whisky glasses and a bottle of single malt in recognition of his 60 years of service.
Correction: It has been pointed out that Cllr Charles Swift from Peterborough City Council was elected in 1954, making him thought to be the country's longest serving councillor.