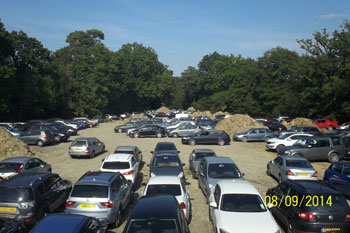 Two men have been fined £50,000 for running an illegal airport car park for nearly 800 vehicles.
Mid Sussex District Council took legal action against Mr Imran Shahid and Mr Tariq Wasi, after they converted land in Copthorne into an unauthorised car park without applying for planning permission.
The two men pleaded guilty to failing to comply with the council's Stop Notice and were fined £3,000 each and told to cover Mid Sussex District Council's legal costs of £9,500.
The council also sought a Confiscation Order under the Proceeds of Crime Act 2002, which meant £34,578 was confiscated by the courts.
Cllr Andrew MacNaughton, the council's cabinet member for planning, said: 'This is the first time that we have used the Proceeds of Crime Act and it has sent a clear message: you will not be able to profit from ignoring planning regulations.
'Planning laws are in place for a reason; they protect the local environment from inappropriate development and give the people who will be affected by the scheme a chance to have their say. I hope this prosecution shows that if you try to bypass the planning system we will take action and pursue the matter through the courts if necessary.'