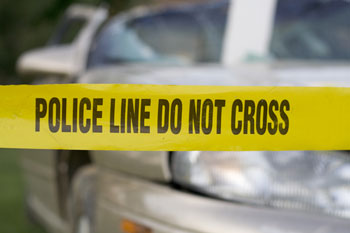 A woman killed on a Wiltshire road last year where street lighting had been switched off would have been 'impossible' to see, a coroner has ruled.
Cheryl Richards, 31, was walking along the A361 at around 2am on 27 September 2014 when she was hit by a car being driven by 23-year-old Lee Sullivan.
The mother of five died after suffering head injuries sustained in the collision.
An inquest heard Sullivan had been drinking before the incident and Richards was not wearing any reflective clothing.
However the coroner said it would have been 'impossible' for motorists to avoid Richards because of the 'lack of street lighting' or high-vis clothing.
Street lighting along the rural route – which does not have a pavement – has been switched off after midnight since 2011.
Independent councillor, Ernie Clarke, told the Telegraph the town hall 'absolutely' needed to review the street light policy, which he later branded 'foolhardy'.
'The decision to turn the lights off was purely a cost saving measure by the Conservatives and I hope after this the highways committee take note of the coroner's verdict as I would have thought the money being saved is not a lot,' Clarke added.
Philip Whitehead, cabinet member for highways at Wiltshire Council, said: 'Whenever there is a fatal accident in Wiltshire the police thoroughly investigate the incident, and any recommendations made by the coroner concerning the highway are given serious consideration by Wiltshire Council.'
Sullivan returned to the scene of the crash before driving off and later handing himself in to police. A series of tests found he was likely to have been just below the legal limit of microgrammes of alcohol per 100 millilitres of his breath when the incident occurred.
He was charged with failing to stop at the scene of a collision, given 10 points on his licence and 200 hours of community service.