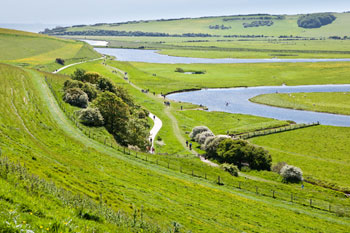 East Sussex County Council has transferred the ownership of the iconic Seven Sisters Country Park to the South Downs National Park Authority (SDNPA).
The council has been in negotiations with the SDNPA over the management of the 280-hectare site. The conclusion of the deal means the park will remain in public ownership.
The SDNPA has committed just under £2m investment to help create a visitor centre, as well as a long-term goal of improving habitats for wildlife.
Trevor Beattie, chief executive of the South Downs National Park Authority, said: 'Today marks a new chapter for Seven Sisters – a truly iconic site of international importance that is a gateway to both the Sussex Heritage Coast and the wider South Downs National Park.
'We want to build on the work done by East Sussex County Council to create an outstanding habitat and world-class visitor centre that together do justice to the landscape and the location.
'Our significant initial investment underpins the Authority's long-term plans to conserve and enhance Seven Sisters Country Park, ensuring that it continues to be an iconic, healthy and cherished place for future generations.'
Cllr Claire Dowling, lead member for Transport and Environment at East Sussex County Council, commented: 'The transfer of the Seven Sisters Country Park to the South Downs National Park Authority is great news for the residents of, and visitors to, East Sussex.
'Protecting our countryside sites for future generations is a top priority for the council and the Authority is an organisation with a great track record of conservation and safeguarding public access to the countryside.
'I am delighted that the transfer, which ensures this iconic Sussex beauty spot remains in public hands, has been successfully completed.'