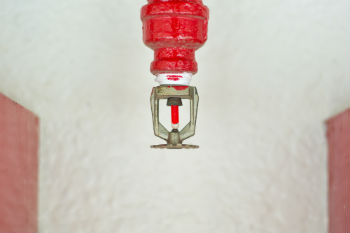 Leicester City Council is to start retrofitting sprinkler systems to five council tower blocks next month following the Grenfell Tower tragedy.
Maxfield House, an 18-storey block, will be the first to see a sprinkler system fitted, at a cost of £450,000.
The block is currently empty while a £2m refurbishment project is undertaken.
The new system will see five individual sprinkler units installed in each of Maxfield House's 85 flats.
'The work at Maxfield House is the latest phase of our ambitious tower block refurbishment programme,' said Cllr Andy Connelly, deputy city mayor for housing.
'It also marks the start of our commitment to retrofit sprinkler systems to all of our residential tower blocks. It's not an easy or cheap thing to do, but the priority here is the safety of our tenants.'
Funding to retrofit sprinkler systems at four other residential tower blocks – Gordon House, Clipstone House, Framland House, and St Leonard's Court – is expected to be approved for the 2019/20 capital programme.
The exact costs are not yet known.
The Housing, Communities and Local Government Committee has called on the Government to provide funding to enable councils to fit sprinklers in all high-rise residential buildings.