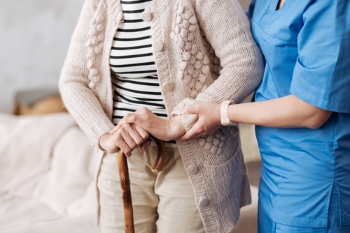 Derbyshire County Council has asked its employees to help the local authority provide care services amid the UK-wide shortage of care staff.
The rapid spread of Omicron has meant that staff tasked with providing care services are being forced to self-isolate. This has led to shortages within a sector that is already struggling with staff employment and retention issues.
A spokesperson for Derbyshire County Council said that the council is doing its best to place its care staff where they are most needed, but warned 'we still do not have enough people to provide the support and service that we need to.'
'We are now asking for fully vaccinated and boosted council staff, from all our departments, to come forward to help support the older and vulnerable people living in our 23 residential care homes over the coming days and possibly few weeks,' they said.
'Staff who come forward to help in our care homes will provide valuable assistance to our professional care workers, so they can focus on the more specialist tasks such as personal care and medication. They will help to provide emotional support, engage residents in social activities and help with catering, domestic duties and laundry.'
Earlier this month, North Yorkshire County Council made a similar request. It urged staff working in non-critical services to volunteer for social care roles due to the pressures caused by the spread of Omicron.
Independent care providers have also called on the Government to create an 'emergency army' of volunteers to help solve the staffing crisis.
'Councils and care providers are entering this period with existing staff shortages,' a spokesperson for the Local Government Association (LGA) said.
'A recent LGA survey indicated that around half of all councils had seen disruption to services due to lack of staff, with this being particularly acute in adult social care, children's services and waste collection services.
'While local authorities, working with their partners, will do their best to protect the delivery of vital services, it is possible that access to some services may be temporarily reduced.
'As they have done since the start of the pandemic, councils are working with care homes to find ways to alleviate staffing shortages and to still be open for business while also following safe infection control practice. The LGA is working with national partners to support these local efforts.
'We want to work with Government to address these issues to ensure councils and their care provider partners can be resilient in supporting their communities through this wave of the Omicron variant.'