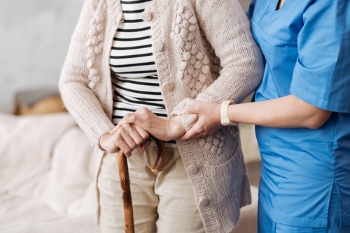 Independent care providers have called on the Government to create an emergency army of volunteers to help solve the social care staffing crisis.
The Independent Care Group (ICG) has written to the health secretary appealing to him to tackle the social care staffing crisis by setting up an army of volunteers which can step in and help in care settings.
'I wrote in August and I am writing again now as the situation is becoming desperate,' the ICG's chair Mike Padgham wrote.
'Every day we are hearing from the operators of nursing and care homes and from homecare providers who cannot operate properly because they are so short of staff.
'Before Covid-19 the sector had around 120,000 care staff vacancies. After the upheaval of Brexit, the compulsory "no jab, no job" and escalating cases of Covid-19, we are on our knees and we need help before we have to start rationing care.'
In his letter, Mr Padgham emphasised that this is an unsustainable situation.
'Care providers cannot go on as they are or the amount and the standard of care are going to be under threat and compromised,' he wrote.
'The idea of a volunteer army for care – similar to that being set up to support the NHS – is a serious one and one that must be implemented immediately, before it is too late.'
Chief executive of the charity NHS Providers, Chris Hopson, warned that the care crisis has an impact on the NHS.
'Reports of growing numbers of outbreaks of COVID-19 in care homes leading to those homes closing to new admissions, are very concerning,' he said.
'We know that, despite best efforts from frontline health and care staff, this will increase the number of delayed discharges from hospital.
'This isn't good for patients as we know patient outcomes deteriorate if patients are medically fit to discharge but can't leave hospital.
'And delayed discharges add significantly to pressures in the NHS, making it more difficult to admit patients who need hospital care, such as serious cases coming via A&E Departments.'
He added: 'Trust chief executives are telling us that delayed discharges are significantly adding to the pressures they face, which is why they are working so hard with social care colleagues to speed up discharge wherever possible.'
A spokesperson for the Local Government Association (LGA) said: 'As they have done since the start of the pandemic, councils are working with care homes to find ways to alleviate staffing shortages and to still be open for business while also following safe infection control practice. The LGA is working with national partners to support these local efforts.'