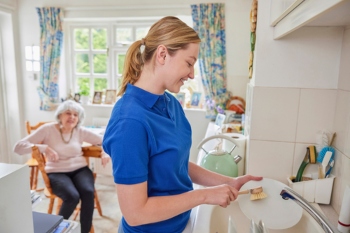 North Yorkshire County Council has urged staff working in non-critical services to volunteer for social care roles due to the pressures caused by the spread of Omicron.
The council has already reorganised staff into different roles due to reduced staffing levels across critical care services and the wider care sector.
It is also asking employees in services such as highways, planning, and back-office jobs to step into social care roles if needed.
The council would provide staff with training and support, and would match the new duties to normal working patterns.
Richard Flinton, chair of the North Yorkshire Local Resilience Forum, said: 'These emergency plans will only be used if needed but will hopefully provide sufficient volunteers to get us through the Omicron wave which may see as much as a 40% reduction in available care staff due to illness or self-isolation.
'Staff would be deployed in such circumstances on a range of different duties supporting care delivery in our elderly person's homes and extra care settings to free up care colleagues to deliver direct care.
'So we are looking for colleagues to help with roles such as cooking, cleaning, helping people eat and drink and social activities/interaction, including helping people stay in touch with families virtually or answering telephone calls.'