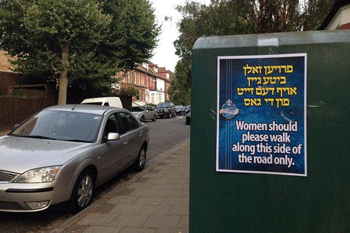 A London borough has removed local signs telling women on which side of the road they are allowed to walk.
Signs that read 'women should please walk along this side of the road only' in both Yiddish and English were found along streets in Hackney's Stamford Hill area.
The Stamford Hill Shorim Group – whose Jewish members assist local police – told the Hackney Gazette that the signs were likely to have been put up by an orthodox Jewish group for a Torah parade. Male and female members of the religion are kept separate during the event to prevent them from making physical contact.
After being made aware of the posters, the group said it had told local organisers that the signs 'lacked explanation in the English text'.
Chaim Hochhauser, from the Stamford Hill Shomrim group, said: 'We didn't know much about these posters until it was brought to our attention later on. We have since contacted the event organisers, and explained that these posters lacked explanation in the English text, and therefore could have offended people who don't understand the Hebrew wording and the logo.'
A spokesperson from Hackney City Council said: 'As soon as the signs were brought to the council's attention they were removed.'
Photo: @sean__clare via Twitter