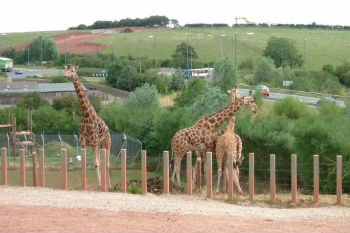 Barrow BC has refused to issue a new licence to a zoo in Cumbria - where a keeper was killed in 2013 - after an inspection revealed many animals had died due to the poor conditions.
South Lakes Safari Zoo in Dalton-in-Furness applied for a new licence but was refused on animal welfare grounds.
In a review of the zoo, it was revealed that three animals were run over by a train last year and nothing was done by the owner until Barrow BC took action.
The report also noted 16 other animals have died from trauma, including ten primates and a lemur. One red ruffed lemur was eaten by a tiger.
These are just a few examples taken from the report.
'The chief concern here is not the deaths, or even the causes themselves (although they are indicative of poor management), but the fact that DG [David Gill, the owner] accepts these losses and does not see a problem with it,' the report said.
'A keeper informed the inspection team that they had been informed to just dispose of any dead bodies and not tell anyone about them.'
The zoo was also recently fined £255,000 for health and safety breaches which resulted in the death of a young zoo keeper, Sarah McClay, who was killed by a Sumatran tiger in 2013.