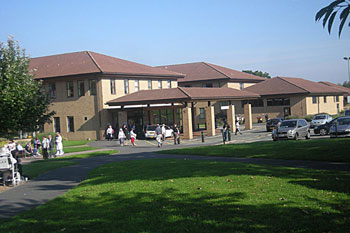 Telford & Wrekin Council have referred plans to shake-up local health services to the Government over concerns the scheme 'would not meet the growing and changing needs' of the local population.
The plans, known as 'Future Fit', would downgrade the A&E department at the Princess Royal Hospital and move its consultant-led Women and Children's Centre to Shrewsbury.
The decision to go ahead with this reform was taken by Shropshire's Clinical Commissioning Groups despite a 14 week consultation last summer which saw the majority of people who took part oppose it.
Telford & Wrekin Council have now referred the decision to the health secretary Matt Hancock, arguing that it is not in the best interests of health services in the area.
The local authority also says that the consultation with the Joint Scrutiny Committee was inadequate.
'This is a lengthy and detailed legal referral. It outlines many of the arguments we have long made and goes further into how Future Fit's decision would not meet the growing and changing needs of our population — not now and not in the future,' said council leader Shaun Davies.
'There is insufficient evidence of any investment in primary and community healthcare services which are needed to help keep people out of hospital in the first place.
'We have no confidence that the NHS can afford to carry it out with what is a loan, not a grant, from the Government.
'We have no confidence that there would be any savings from these hospital changes to re-invest back into primary care and community services that are so badly needed in the borough and in Shropshire and Mid Wales
'We had previously asked the Health Secretary to intervene because we believe this decision makes no sense.
'This formal referral by the council now forces him to review proposals that I believe to be incomplete following analysis that was flawed, leaving too many questions unanswered.'
Photo: © Row17