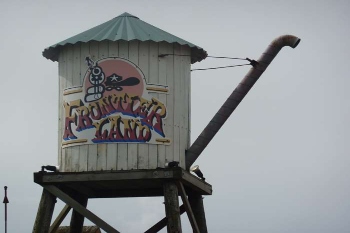 Lancaster City Council has stepped in to purchase Morecambe's derelict theme park, Frontierland, in an effort to kick start its regeneration.
Frontierland, which closed 20 years ago, has seen a number of failed re-development attempts by the private sector.
Most recently a retail-led scheme with a restaurant, pub, and hotel was proposed and approved by the city council. However, planning permission has since expired.
The city council has now purchased the land and says it will develop its regeneration plans in consultation with stakeholders.
'Following the failure of the most recent private sector plans to redevelop Frontierland there was a real possibility that the site could once again be mothballed,' said Cllr Tricia Heath, cabinet member with responsibility for economic recovery.
'It has been left to decay for long enough already, so the council felt it had to step in and pursue its own redevelopment plans to provide long lasting economic, social, and environmental improvements.
'By owning the land, we now have the potential to use the site to help drive the reinvention of the town and there are a number of options available that provide the opportunity to capitalise on the renewed interest that developers are showing in Morecambe.
'We also want to make sure that the community is at the heart of the vision for the site and will be providing Morecambe's communities with the opportunity to give us their views throughout the process of designing our plans.'