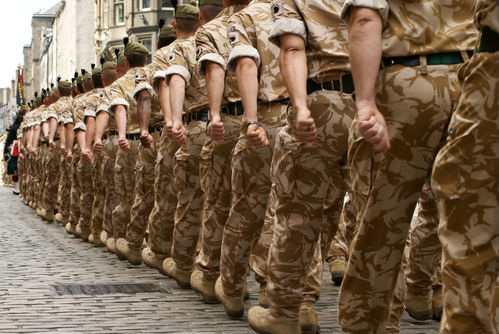 A council licensing officer has apologised after claiming local soldiers will take drugs, get drunk and fight.
Tony Potts made the comments during a Stafford BC licensing committee meeting, which was recorded and uploaded to the council's website.
Around 1,000 new troops from 16 Signal Regiment and 1 Armoured Division Signal Regiment are being relocated to MOD Stafford from Germany.
The licensing officer said new soldiers would 'want to spend money but then they get drunk and want to start fighting'.
He described the new military presence as 'young lads with a lot of money in their pockets, a few beers, a shot or two of cocaine.
'It is something we are aware of and this night-time economy strategy will address that,' he added.
Potts also used the meeting to claim 'drugs is an issue within the British Army'.
However council leader, Patrick Farrington, said: 'These comments are most certainly not the views of the council. We have a long-standing relationship with the military at MOD Stafford and have worked together on making sure they are a part of the borough community.
'Our officers have worked extremely hard to ensure that all the troops returning from Germany this year will be made to feel very welcome. We are pleased and proud of our great relationship with MOD Stafford and the support we give to them demonstrates how much we value their presence.'
In a statement, Potts said: 'I apologise unreservedly for the comments made. It was never my intention to make any slur on our soldiers.'