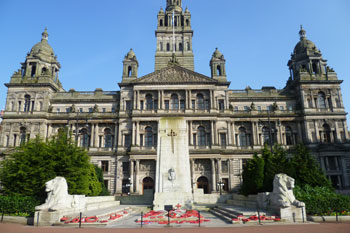 Glasgow City Council has failed in its bid to reclaim the £1m in damages it was forced to pay to the families of those who lost their lives in a bin lorry crash.
Six people were killed and 15 injured in 2014 when Harry Clarke lost consciousness behind the wheel of his bin lorry and crashed into shoppers in the city centre.
Glasgow CC's insurers launched the court action against Mr Clarke's former employers First Glasgow, claiming that the bus company had offered a reference when he moved to the council and so it had a duty of care to the casualties.
Mr Clarke had 'lost consciousness' in 2010 while driving a bus for First Glasgow, the court heard.
The bus company, argued Glasgow CC's insurers, should have known he was being dishonest when he changed his story about the fainting episode and they should have alerted the council when providing Mr Clarke with a reference.
First Glasgow disputed this claim and, in a written judgment, Judge Lord Ericht concluded that the bus company had no duty of care.
'It is reasonably foreseeable that if a reference omits reference to a risk of the employee causing harm in the course of employment, then that harm may occur in the course of his work with the new employer,' he wrote.
'However ... foreseeability is not enough for the imposition of a duty of care. There requires to be a relationship of proximity. In my opinion in the current case there is no such proximity as would give rise to a duty of care.'
Lord Ericht found it would not be 'just, fair and reasonable' to impose this duty of care because it could have led to employers being no longer prepared to give references, as they could be held liable to 'a great number of unknown persons'.
A spokesperson for the city council said: 'This is a matter for our insurers. It would be inappropriate to comment further.'
Harry Clarke resigned from his job in November 2015 ahead of a disciplinary hearing.?