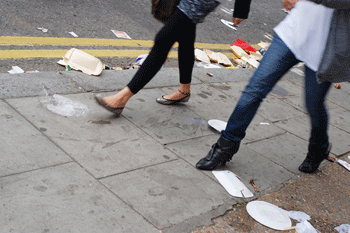 A council-owned litter enforcement company in East Hampshire has issued half as many fines than their predecessor because of their 'honest' approach to dealing with the public.
EH Commercial Services (EHCS) — a company wholly owned by East Hampshire DC — only issued 719 tickets last year compared to the previous year when their predecessor, the private company Kingdom Services, handed out 1,454.
Chris Bradley, a director at EHCS, explained the difference in the number of tickets was the result of EHCS being a start-up company which is still 'learning'.
Mr Bradley also emphasised that the EHCS' tickets are 'issued correctly every time'.
'At the moment we've got a 100% prosecution success rate which demonstrates we may not be issuing as many tickets but we are doing them fairly and we're doing them very accurately,' said Mr Bradley.
The district council previously employed the private contractors Kingdom Services.
An undercover BBC Panorama report claimed the firm was paying bonuses for issuing fines, with one officer claiming to have earned an extra £987 in one month.
Mr Bradley explained the EHCS had a different approach to Kingdom due to their different priorities.
'If you're looking for difference between ourselves and Kingdom they're a purely commercial organisation and as such — and quite rightly so — they're driven by profit and shareholder price,' he said.
'We're wholly owned by East Hampshire District Council and our drive is slight different. We focus on the people and places as well as the economics of the whole thing.'
Mr Bradley also added EHCS deals with the public in 'a fair, respectful, honest way with integrity', and said their training was geared around this fact.
However, the council's company is covering its costs. They offer litter enforcement services to three neighbouring districts - Arun, Hart and Havant - for free and in exchange they keep any fines collected.
Mr Bradley stressed 'we're not a soft touch - if you drop litter we will prosecute you.
'But we'll treat you in a fair and respectful way.'
Kingdom Services have been approached for a comment.