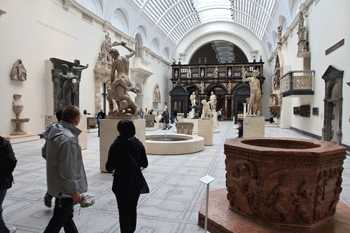 Lottery funding could provide heritage sites and museums with a 'huge boost' if more funding was awarded to good causes, council chiefs have said.
Calling for a review of how lottery funding is awarded, the Local Government Association (LGA) urged ministers to have a 'frank an open discussion' about the future of this form of financial support.
While art sites, museums galleries, and theatres receive £540m from town halls every year, these local spaces are likely to experience the impact of the 40% cut to government grants by the end of this Parliament – the LGA said.
Local authorities can also expect a 17% cut in non-lottery funding – from sources including Arts Council England – over the next two years.
The LGA called for lottery money to 'keep pace' with how councils are now spending their budgets. Leaders said avoiding duplication of funding in some Big Lottery Fund areas that are already 'crowded' with government policy and programmes could redirect money to the causes that need it most.
Chair of the LGA's Culture, Tourism and Sport Board, Cllr Flick Rea, said: 'Since its inception the National Lottery has given billions of pounds to good causes and our country is a more culturally rich and diverse place because of it. However, as funding continues to get cut and council budgets are getting increasingly tighter, we now need to have a conversation around how money is allocated and ensure that it is ending up where it is needed the most.
'The Government's decision to continually focus its most severe cuts on councils, which deliver hundreds of services on which millions of people rely each day, is inevitably having an impact on the arts, heritage and sport, and the additional boost provided by lottery funding is ever more important.'