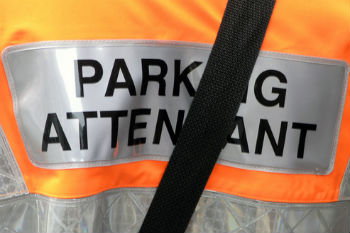 Drivers in Scarborough who park their cars on the pavement or block driveways will be served with 'advice notices' under a new scheme.
If the 'considerate parking initiative' is successful it will be extended to other parts of North Yorkshire.
Scarborough Borough Council is running the scheme with police and North Yorkshire Council. Its civil enforcement officers and police community support officers will now be on the look out for any cars parked inconsiderately.
'Instead of fining a driver, the aim of the notice is to make the driver understand the consequences of their actions, encourage them to alter their parking habits and therefore avoid the need for further regulation of the roads,' said the council.
The initiative was inspired by a similar scheme in Brightlingsea run by Tendring District Council.
Cllr Andrew Backhouse, Scarborough Borough Council cabinet member with responsibility for parking, said: 'We recognise the need in our borough to retain valuable parking space where possible and go as far as we can in tackling public concerns about antisocial parking. By highlighting the issues and asking motorists to be more considerate, we hope the need for further regulation and enforcement can be avoided.'
Inspector Mike Fenton of North Yorkshire Police said: 'We all know our roads are getting more and more congested and finding a parking space, particularly in some of the area's narrowest streets, can be tricky, but it's no excuse to park inconsiderately or dangerously.
'Drivers must remember that parents with buggies and wheelchair users need to be able to use the pavement. There's also the danger that bad parking can create a blind spot or obstruct sightlines, especially when parked near a junction.'