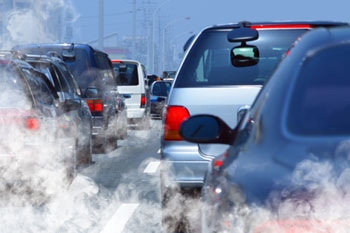 A London council is set to introduce a new diesel levy of £150 — up from £65 — to tackle air pollution.
Merton Council has announced it will phase in the new levy, starting with an initial charge of £90 for a parking permit this year. This will rise to £115 next year before increasing to £150 in 2019/20.
Merton's resident parking permits have been fixed at £65 since 2010.
The aim of the levy rise is to incentivise drivers to purchase more environmentally friendly cars. With this in mind, the council is also reducing the resident parking permit charge for electric vehicles to £25 per year.
A network of electric vehicle charging points in the borough is currently being installed and will, the council said, be available 'very soon'.
A study from the think tank ResPublica published last month revealed particulate matter - or soot - emissions were up by 0.9% between 2014 and 2015 with diesel vehicles responsible for the majority of harmful emissions.
King's College London has estimated air pollution was responsible for about 9,400 deaths in London in 2010 and 3,400 hospital admissions — with an estimated associated economic cost of £3.7bn.
'The environment and air quality where we live should be something we are all concerned about and must all take a certain amount of responsibility for,' said Cllr Ross Garrod, Merton's cabinet member for street cleanliness and parking.
'Bad air quality has been identified as a leading cause of ill health and premature death. We want to do our bit in Merton to encourage people to ensure they drive the least polluting vehicles possible.'