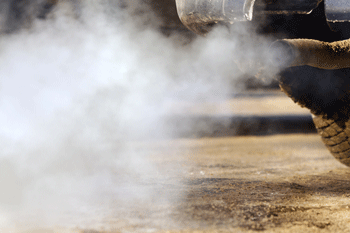 Councils are 'vital' for tackling air pollution in their local areas, and can use the planning system and business rate exemptions to do so, report argues.
A new report from the think tank ResPublica has warned plans to create less polluted cities need to go further if targets to reduce increasing levels of harmful pollutants are to be met.
The study, entitled In Air Necessities: Place-based solutions to a pollution crisis, found particulate matter - or soot - emissions were up by 0.9% between 2014 and 2015 with diesel vehicles responsible for the majority of harmful emissions.
In many urban areas the UK is not projected to meet EU targets for nitrogen oxide (NOx) reduction by 2020. Approximately 40,000 deaths per year are attributable to the effects of the combined effects of nitrogen oxides and particulate matter, ResPublica reported.
Pollution also has a dramatic impact on productivity, according to the report's author Tom Follett. It costs the UK about £2.7bn a year.
ResPublic urged the Government to create more Clean Air Zones. Such zones are already to be established in Birmingham, Derby, Leeds, Nottingham and Southampton with charges - at a rate decided on by councils - for the most polluting vehicles to enter.
The think tank recommended that the revenue raised could be reinvested into schemes aimed at improving air quality. These could include Pollution Reduction Vouchers designed to allow less well-off members of the public to access garage mechanics to convert their car engines to gas power.
The money raised from the Clean Air Zones – combined with a £10 increase in the cost of vehicle registration - could also be used to help low-income households access vouchers to buy bicycles or use public transport.
At the same time councils should offer taxi drivers zero-interest loans to convert their vehicles to LPG, the think tank suggested.
'We need to make sure Clean Air Zones work well if high levels of pollution are going to be tackled,' said Mr Follett.
'This means reducing the number of polluting vehicles as well as encouraging a more sustainable approach to transport across the country.
'As well as helping car and taxi drivers we must also make sure that, while we concentrate on reducing pollution from buses, the use of public transport is encouraged.
'HGVs also have a vital role in our economy and therefore, while their emissions should be constrained – we need to work with hauliers to make sure Britain can keep working.'
'Councils will be vital in supporting the infrastructure and fuelling sites for low-emission freight, both through the planning system and through offering business rate exemptions,' he added.
Director of ResPublica, Phillip Blond, said: 'The Government should be applauded for their efforts to reduce the toxic emissions which continue to pollute the air of Britain's cities and damage people's health.
'We must be careful, however, that any levies on drivers entering urban areas are not simply a congestion charge but are used instead to dramatically improve air quality.
'One key point must be that if we make the polluters pay, we should also use that money to help the owners of polluting cars and vehicles to offset refit costs in order to clean up their emissions.'