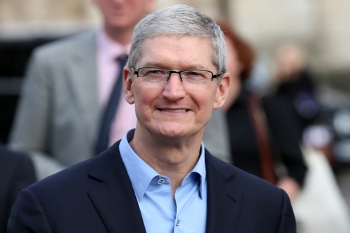 Norfolk County Council has won the first round of a legal battle with Apple who the local authority claims 'misrepresented' the state of its business in China leading to loses by the council-run pension fund.
The county council has been involved in a legal fight with the tech giant for at least two years after the Norfolk Pension Fund lost a reported $1m (£740,000) due to its investment in Apple shares.
The local authority, which has brought the action on behalf of its pension fund, alleges that Apple 'misrepresented' its business in China during a conference call for analysts and investors in 2018.
According to a document from the US court, in response to an analyst who raised concerns about 'deceleration' in emerging markets such as India, Turkey, Russia and Brazil, Apple's CEO Tim Cook said he 'd[id]n't see it as some sort of issue that is common' among all emerging markets, as 'each one of the emerging markets has a bit of a different story'. He then allegedly added: 'I would not put China in that category.'
Norfolk County Council argues that while he was claiming that China's economy was not at risk of deceleration, Mr Cook already knew that – to quote the court document – 'the U.S.-China trade tensions and economic conditions in China were negatively impacting sales and demand for Apple products, particularly iPhones'. Mr Cook then allegedly instructed Apple's smartphone assemblers to 'halt plans for additional production lines' for the recently released iPhone XR.
In January 2019, Mr Cook wrote to investors to inform them that revenue for the first quarter of 2019 was expected to be $84bn – contrary to Apple's guidance range of $89bn to $93bn announced the previous November – due to 'deceleration' in China's economy.
The letter said: 'While we anticipated some challenges to key emerging markets, we did not foresee the magnitude of the economic deceleration, particularly in Greater China. In fact, most of our revenue shortfall to our guidance, and over 100% of our year-over-year worldwide revenue decline, occurred in Greater China across iPhone, Mac and iPad.
'China's economy began to slow in the second half of 2018. The government reported GDP growth during the September quarter was the second lowest in the last 25 years. We believe the economic environment in China has been further impacted by rising trade tensions with the United States.'
The court ruled that the local authority's case against the $3tn firm can be considered a 'class action', which means that Norfolk County Council can act as a representative of any other shareholder in the same position as them. This improves the council's chances of winning the case.
A spokesperson for the local authority said that they could not comment on the case as it is still ongoing. However, they emphasised that the council is fully indemnified against costs arising in the case and that there is no exposure for taxpayers in Norfolk.
Apple denies wrongdoing and has argued that Mr Cook's comments were protected statements of opinion and not regulated financial guidance.