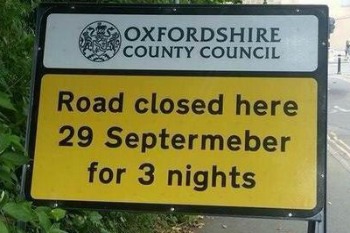 A council has come under fire over a misspelled road works sign, with one person stating the local authority should be 'ashamed'.
Instead of informing motorists of road closures in September, the temporary notice told the Oxford community the route would be shut during 'Septermeber'.
Mo Bacon who retweeted the sign said there was 'no excuse' for the error, adding that Oxfordshire County Council 'should be ashamed' by the mistake.
Other twitter users leaped to the town hall's defence, with one stating: 'As long as you can understand it that's all that matters'.
A spokesperson for the county council told the BBC that spelling mistakes such as this were 'unfortunate'.
'The mistake is easy to rectify and the meaning of the sign in the meantime is still clear,' the spokesperson added.
'There will be no cost to the county council as the wording on the sign is the result of an error made by our contractor.'