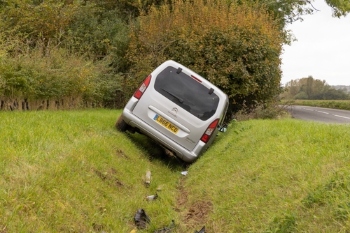 A local council has defended its decision to dig a ditch alongside a car park after residents said it blocked their access to the beach.
The trench was dug by Fareham Borough Council next to Salterns car park at Hill Head on the Hampshire coast.
Over 70 residents have signed a petition against the excavation, arguing that it made access to the beach more challenging and ruined a picnic area.
The council said that it dug the ditch to stop people parking on the verge.
'A channel was excavated on at Salterns Road car park due to the increasing problem of cars parking along the grass verge instead of in the designated car parking area,' said the executive member for health and public protection at Fareham Borough Council, Cllr Joanne Bull.
'The council had previously introduced dragons teeth as a way to prevent vehicles parking on the grassed area but unfortunately these were vandalised. It was therefore necessary to remove them and find an alternative solution. This channel restricts vehicle access to the grass verge while retaining pedestrian access via an opening along it.'