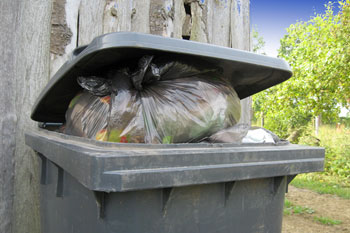 A Welsh council is considering cutting refuse collections to once a month to avoid being fined for missing recycling targets.
Bridgend County Borough Council is conducting a public consultation on changes to its waste collection services, including proposals to only collect black rubbish bags once a month.
The council said it currently recycles 57% of all its waste but must increase this to 64% by 2020 or face a financial penalty from the Welsh Government.
Cllr Hywel Williams, the council's cabinet member for communities, said: 'Many local authorities in Wales have already made changes to their recycling and refuse collections in preparation for this as areas that do not meet the new targets will be subject to severe financial penalties.
'For example, missing the 64% target by just one per cent will mean that Bridgend County Borough will be issued with a penalty of around £100,000 which will have to be paid for by local taxpayers.
'The more we miss the target by, the more we will have to pay, so the only way in which we are going to be able to avoid huge fines is by changing the way in which we collect refuse, increasing how much we recycle and cutting back on the amount of waste that is sent to landfill.'
The other proposals put forward for consultation include two and three week collections, with a limited number of black bags per household, or a monthly collection with no restrictions on the number of black bags put out.
The council is also considering introducing a nappy recycling service and allowing people to recycle black bag waste at household waste amenity sites.