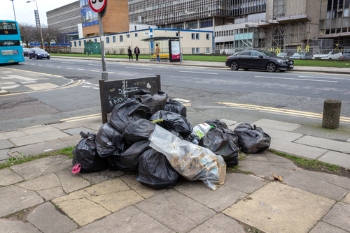 Liverpool City Council is to consider beginning consultations on the installation of underground bins in an effort to clear streets of black bags and litter.
The first of its kind in the UK, this innovative idea would see large subterranean receptacles retrofitted in 140 locations in densely built-up areas across the city.
The super-bins come in a variety of sizes, the biggest being able to take up to 5,000 litres of waste, the equivalent to a week's worth of refuse for 20 houses.
The city council, which spends £9.5m a year collecting and recycling refuse, estimates that this new approach will radically reduce the issue of ripped black bin bags spilling out on to streets.
Cllr Abdul Qadir, cabinet member for Neighbourhoods, said: 'Due to Liverpool having so many terraced streets, particularly to the north and east of the city centre, we've left thousands of families with the limited option of putting black bin bags on the street or in community bins which are easily accessed.
'This has been a recipe for a litter festival at times which in turn has placed extra pressure on council resources, which is a really inefficient way to handle this.
'Officers have been tasked to think more creatively to design a solution that gets round the limitations of these terraced streets and these underground smart bins are a great step forward. They brilliantly demonstrate how Liverpool can lead the rest of the county in the fight against litter and we already have other councils with similar communities looking to visit us to learn from our programme.'
The recommendation to begin consultations on the £1.5m scheme will go to the council's Cabinet next Friday.
This article first appeared on LAPV.