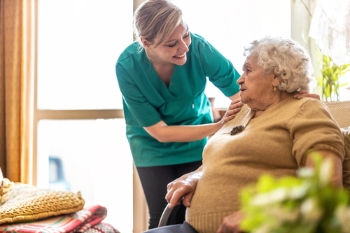 Local authority leaders have welcomed the publication of a review into health and adult social care leadership, particularly its emphasis on the need to improve collaborative leadership across the NHS and social care.
The Department for Health and Social Care (DHSC) has published an independent review into health and adult social care leadership, which it describes as 'the biggest shake-up' in health and social care leadership in a generation.
Led by General Sir Gordon Messenger and Dame Linda Pollard, the review has set out seven recommendations for strengthening leadership in the provision of health and social care, including targeted interventions on collaborative leadership and a unified set of values across health and social care.
The review also recommended action to improve equality, diversity and inclusion, and consistent management standards delivered through accredited training.
Responding to the report, health and social care secretary Sajid Javid said: 'The NHS faces huge challenges as we recover from the pandemic, from tackling the COVID backlogs to addressing the widespread health disparities that exist across the country.
'The findings in this report are stark, it shows examples of great leadership but also where we need to urgently improve. We must only accept the highest standards in health and care – culture and leadership can be the difference between life and death.
'I fully support these recommendations for the biggest shake-up of leadership in decades. We must now urgently take them forward, to ensure we have the kind of leadership patients and staff deserve, right across the country.'
The review was announced in October 2021. The review team was made up of representatives from the Department of Health and Social Care, NHS England, Health Education England, NHSX and social care leaders, as well as clinicians, managers and academics. It engaged with more than 1000 stakeholders on over 400 different occasions.
Cllr James Jamieson, chairman of the Local Government Association (LGA), welcomed the report.
'We are pleased at this report and its message of the need to improve collaborative leadership across the NHS and Social Care and focus on place. Our Social Care services and staff do an outstanding job in difficult circumstances,' he said.
Cllr Jamieson continued: 'Social care remains in a fragile position as councils struggle with underfunding and recruitment issues in the face of ever-increasing demand. The LGA has long argued for a place-based leadership of care and health.
'Leaders establish the culture of an organisation, setting the tone for the way of working by demonstrating positive behaviours. Enhancing the understanding and trust between systems and place leaders is vital to bridge the current cultural divide and tackle inconsistencies in opportunities for leadership roles.
'Moving forwards, it is essential that the Government creates the conditions that allow for growth of leadership by delegating decision making to a local level and giving leaders freedom and flexibility to develop partnerships and deliver locally agreed priorities with minimum regulatory burden. In particular, a focus on population health results will provide a suitable framework for place-based leadership and foster a common purpose for collaboration.'