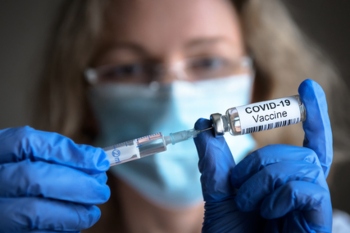 Local authority leaders have welcomed the Government's announcement of the COVID-19 vaccination plan, but argue councils need more information to ensure everyone receives their jab promptly.
Published yesterday, the UK COVID-19 vaccines delivery plan sets out how the Government will work with the NHS, devolved administrations, local councils and the armed forces to deliver what they describe as 'the largest vaccination programme in British history.'
The Government estimates that at least two million vaccinations per week will be delivered from over 2,700 vaccine sites across the UK. All residents and staff in over 10,000 care homes across the country will also be offered a vaccine by the end of January.
A workforce of over 80,000 health professionals has been mobilised to help in the delivery of the programme, with over 200,000 additional members of the public expressing their interest in helping with the non-clinical elements of the rollout.
'It's taken a tremendous amount of hard work and dedication to make such an incredible start to this ambitious deployment programme,' said health and social care secretary Matt Hancock.
'Our vaccine deployment plan sets out exactly how we will harness these efforts to expand the programme quickly and safely.'
Mr Hancock continued: 'Our UK COVID-19 vaccines delivery plan maps our route back to normality, but it does not mean we can be complacent and it is mission critical that everybody abides by the restrictions in the coming weeks.
'The next few months will present a significant opportunity to turn the tide of battle against COVID – I am looking forward to watching these plans bring more reassurance and hope back to people's lives after a difficult year.'
Cllr Ian Hudspeth, chairman of the Local Government Association's (LGA) Community Wellbeing Board, welcomed the announcement and said it was inspiring to see so many volunteers offering to help with the delivery of vaccines.
However, he said that local authorities need more information to ensure everyone could be vaccinated.
'Councils want to play their full part in the national rollout, but need more information shared with them, to ensure everyone can receive their jab promptly and without delay,' he said.
'This includes granular data at a local authority level – including by age, postcode, ethnicity and gender – so they know who in their communities has had their dose so far and where they need to reach out and improve uptake, as well as information on the rollout across care homes and other care settings in their areas.'
He added: 'It is also crucial social care staff continue to have equal access to the vaccine with their NHS counterparts, as both are essential frontline workers doing an incredible job in extremely challenging conditions.'