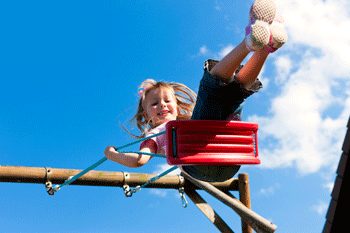 Local authority leaders in Scotland have agreed a £5m investment package with Holyrood in order to modernise play parks across the country.
The funding is the first round of the Scottish government's total planned investment of £60m for play park renovation over this parliamentary term.
'We know that play is an absolutely crucial part of children's health and well-being and as we continue to recover from the pandemic, playing outside will allow children to reconnect with each other and allow them to return to enjoying their childhood,' said minister for children Clare Haughey.
'Our overall investment of £60m will ensure that all children across Scotland have access to quality play in their own community and helps to deliver on children's right to play, enshrined in the UN Convention on the Rights of the Child.
'We will continue to listen to children and young people throughout this process to ensure our funding is spent on play spaces that work for all.'
A COSLA spokesperson said: 'Councils are committed to creating and maintaining local spaces where children can play and learn.
'The Scottish government has invested an initial £5m in the refurbishment of play parks across Scotland and this will be used in line with local plans.
'We will continue to engage with Scottish government around the remaining £55m and on establishing the resource that is required over the longer term to ensure that communities benefit from high quality facilities.'