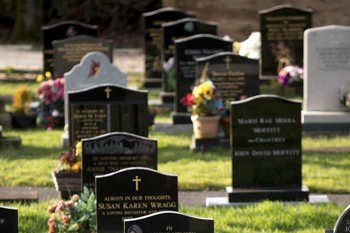 A mother has slated a council after a star-shaped headstone was removed from her son's grave shortly after what would have been his seventh birthday.
Jo Corbett, 42, said she was 'really angry' when the stonemason commissioned to make a memorial for her son was told by Malvern Town Council it had to be removed.
Her son Max died aged four years old after complications associated with severe epilepsy.
The memorial was erected ahead of Max's birthday but just three days later was removed from Great Malvern Cemetery, Worcestershire, following a complaint.
Malvern Council said the stone had been installed without gaining the appropriate permission.
However Ms Corbett said she had not been aware of any restrictions.
'If I had been, I might have looked somewhere else. I couldn't believe it when the stonemason said the council had told him if he didn't remove it, they would,' she told Worcester News.
'It's made me really angry. I won't let this rest. I won't give up until the stone is back where it belongs, on my little boy's grave.'
A council spokesperson said: 'Malvern Town Council feels great sympathy for Ms Corbett for her great loss and is very sorry for her distress at being put in an intolerable position regarding the gravestone.
'Regrettably, the memorial stone that was erected on Ms Corbett's son's grave was done so by a memorial mason who did not obtain the necessary permission, and who did not consult with town council officers as to whether the headstone was in compliance with the cemetery rules and regulations.
'This situation was not the fault of Ms Corbett, but of the stonemason who made a gravestone that was unsuitable for the position in which it was to be erected, and which was also put in place without the necessary permission; the application form was posted under the door of the town council offices just hours before the stone was erected.'
'The memorial application form and process are both clear and well known by stonemasons working in Great Malvern Cemetery. The stonemason's failure to follow this process has caused a lot of unnecessary distress in this case.'