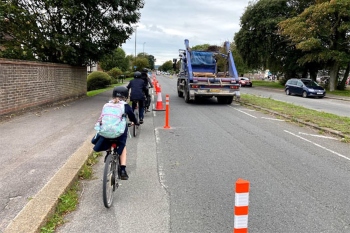 Campaigners claim to have 'drawn a line in the sand' after a highway authority admitted it acted unlawfully when it decided to remove a popular cycle lane in November 2020.
West Sussex County Council said it settled the court case brought by Cycling UK to avoid further cost to the public purse.
The authority said that including a clearer account of government guidance in a council report 'may or may not' have led to a different a outcome when it decided to remove the cycle lane.
It will contribute £25,000 to the cycling charity's legal fees.
Cycling UK said the cycle lane on the A270 Upper Shoreham Road was installed at the end of September 2020 through government funding to help more people walk and cycle during the pandemic, and was removed weeks later, 'contrary to government guidance'.
Head of campaigns Duncan Dollimore said: 'In Shoreham, Cycling UK has drawn a line in the sand, showing there are repercussions for councils which ignore government guidance. Hopefully West Sussex County Council's acceptance they acted illegally will put a stop to short-sighted decisions like this happening across other parts of the UK.
'This is a victory for people who want their children to travel to school in safety, for people who don't have to breathe polluted air, and for everyone who would like healthier, safer streets where we live and work.'
A West Sussex County Council spokesperson said: 'We have settled the court case so as to avoid further cost to the public purse in relation to a decision taken some time ago and which has no implications for other proposals or schemes.
'We have accepted that we should have included in a council report a clearer account of government guidance and its effect before taking the decision. This may or may not have led to a different a decision about the temporary cycleway in Shoreham.
'Cycling UK has expended a great deal of money on this process but there is no prospect of the temporary Upper Shoreham Road cycleway scheme – which was introduced as an emergency, temporary measure during the pandemic - being restored and the guidance in question no longer applies.'
Cycling UK said that since removing the cycle lane, the council has made a public commitment to increase space for cycling on road the road but it is urging the council to 'move on to delivery'.
It added that it hopes that the creation of Active Travel England will mean such legal challenges are no longer necessary.
Mr Dollimore said: 'Challenging councils which act illegally by ignoring government guidance shouldn't be the work of charities like Cycling UK. We hope Active Travel England will make sure councils not only promote cycling, but ensure they act lawfully and don't waste public funds.'
Estelle Dehon of Cornerstone Barristers, one of the barristers who acted for Cycling UK, said: 'Building on our client's legal success, it is now time for a consistent approach to be taken across the UK, similar to that in Wales, where there is a strong obligation on all local planning authorities to promote active travel.'
This article first appeared on Transport Network.