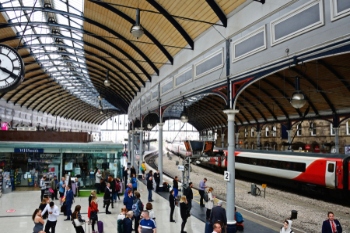 The next phase of Newcastle Central Station's multimillion pound transformation project is expected to begin in September following the appointment of North East construction company, Tolent.
Funded by the North East Local Enterprise Partnership's Local Growth Fund, the second phase of the Central Gateway project will see the creation of two new pedestrian/cycle entrances, the creation of a new concourse within the station, and the pedestrianisation of Orchard Street.
Proposals for a new 'smart' taxi rank at the front of the station are under review to improve access and reduce congestion in the area.
The Local Growth Fund awarded £4m to Newcastle City Council to deliver the works at Newcastle Central Station, which is managed by LNER.
'The Local Growth Fund is designed to improve the quality of life for people living and working in the North East LEP region by investing in major capital projects that help create jobs and boost the local economy,' said Andrew Moffat, chair of North East LEP investment board.
'The Central Gateway project is vital in ensuring Newcastle Central Station can accommodate growing passenger numbers, and the introduction of new lines and services in the future.
'Newcastle Central Station is one of the busiest transport hubs in the North East and the latest round of works will ensure people and goods can continue to travel fast and efficiently across our region, and the country.'
Michelle Percy, director of Place at Newcastle City Council, commented: 'It's great news that after all the consultation and permissions work is finally due to start at the Central Station.
'Creating new spaces, new entrances and a taxi pick-up point will open up the station which should act as a catalyst for further development at Stephenson Quarter, Forth Yards and Quayside West.
'It's a fine example of how the city council, the North East LEP, LNER and Network Rail are working together to improve passenger experience at this attractive and busy gateway into our region.'
Image: Caron Badkin / Shutterstock.com.