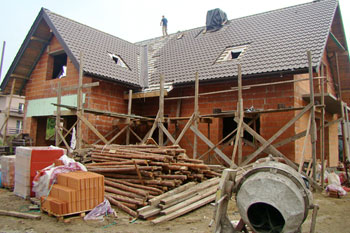 Local authority leaders have warned forthcoming plans to change the laws governing the conversion of agricultural buildings will 'heap more pressure' on local infrastructure.
Landowners can currently convert agricultural buildings into three new homes - so-called 'agri to resi' conversions - without the need for planning permission.
However, new regulations due to come into force in April will mean the owner of the buildings will be able to build five new homes without planning permission.
The Local Government Association (LGA) warned this would place extra pressure on local services and infrastructure, and undermine the building of affordable housing.
These conversions have increased by 46% over the last two years. Last year there were almost 19,000 new homes converted from old offices, barns, and storage facilities without local scrutiny.
The LGA estimated this equals a loss of almost 8,200 affordable homes over the last two years and zero investment in local services and infrastructure to support new households.
'Councils want to see more affordable homes built quickly and the conversion of offices, barns and storage facilities into residential flats is one way to deliver much-needed homes,' said Cllr Martin Tett, the LGA's Housing spokesman.
'However it is vital that councils and local communities have a voice in the planning process.'
'Relaxations to "agri to resi" permitted developments risk sparking significant increases in the number of new homes escaping planning scrutiny in rural areas, as developers are able to further bypass local communities and avoid contributing towards crucially needed local infrastructure and affordable housing,' he continued.
Housing minister, Dominic Raab, said: 'Through strengthening planning rules and targeted investment we are ensuring we are building the homes the country needs as well as the local services needed by communities.
'In rural communities our changes will mean more flexibility on how best to use existing buildings to deliver much needed properties.
'This is part of our ambitious plans to get Britain building homes again and ensure they are affordable for local communities.'