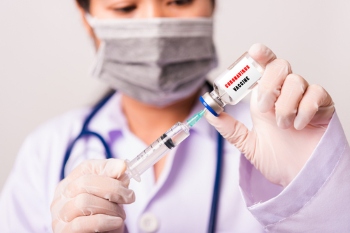 The Government has launched a consultation on plans for staff in health and care settings in England to be required to have COVID-19 and flu vaccines.
The Government's proposals would mean only those who are fully vaccinated, unless medically exempt, could be deployed to deliver health and care services.
The consultation will also seek views on whether flu vaccines should be a requirement for health and care workers.
The percentage of NHS trust staff who have received one dose of a COVID vaccine is around 92% nationally, with 88% of staff having received both doses.
However, there is variation in uptake with new data due to be published today showing that between NHS trusts, uptake rates can vary from around 78% to 94% for both doses.
National flu vaccination rates in the health service have increased from 14% in 2002 to 76% last year. In some settings, however, rates are as low as 53%.
'Many patients being treated in hospitals and other clinical settings are most at risk of suffering serious consequences of COVID-19, and we must do what we can to protect them,' said health and social care secretary Sajid Javid.
'It's so clear to see the impact vaccines have against respiratory viruses which can be fatal to the vulnerable, and that's why we're exploring mandatory vaccines for both COVID-19 and flu.
'We will consider the responses to the consultation carefully but, whatever happens, I urge the small minority of NHS staff who have not yet been jabbed to consider getting vaccinated – for their own health as well as those around them.'
Commenting on the announcement, Matthew Taylor, chief executive of the NHS Confederation, said they will carefully consider the Government's proposals but emphasised that the NHS Confederation preferred the current voluntary approach to vaccination.
'We will need to understand the detail of the proposals, but the focus must remain on increasing vaccine confidence and the approach taken to date to encourage uptake through informed consent remains the preferred option,' he said.
'At the NHS Confederation we continue to strongly encourage all staff and members of the public not only to be vaccinated but to continue to take measures to reduce the risks of contracting and transmitting COVID.'
Professor Martin Green, chief executive of Care England, welcomed the proposals.
'We are pleased that the Department has finally launched this consultation. This was something promised 'within the coming weeks' when the Government response to the consultation on residential adult social care services was published in July.
'The delay in the publication of today's consultation has heavily impacted recruitment and retention within the adult social care sector, with residential care staff transferring over to home care or the NHS. Earlier this week Care England wrote to Minister of State for Social Care to emphasise our serious and growing concern in relation to the absence of this consultation and we are pleased that our concerns have been listened to.'