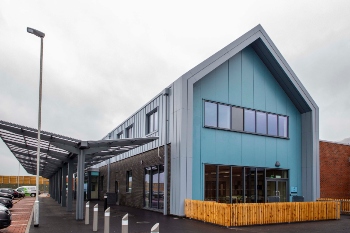 Somerset County Council has announced that construction has finished on Polden Bower School, a brand new £23m council-funded school for students with complex needs.
The project is part of a wider Somerset County Council programme to boost provision for children and young people with Special Educational Needs and/or Disabilities (SEND) in the county.
The purpose-built school caters for 160 students aged four to 16 with the most complex needs, including those with significant mobility difficulties.
The design of the three-wing school, which was influenced by children, parents, carers and teachers, includes a warm water pool for physiotherapy, a sports hall, a sensory room and fully accessible classrooms with the latest teaching technology.
An on-site café will help post-16 students to develop vocational skills and encourage engagement with parents, carers and the wider community.
Helen Farnell, executive headteacher of Polden Bower School, said: 'We are so excited to have reached the handover milestone and are grateful to everyone who brought the scheme into fruition.
'We are all very excited to get into the space and start using the wonderful facilities it will provide for our young people. I can't wait to welcome the first pupils in soon and see their faces, this facility will truly be transformational to some of our young people.'
Cllr Frances Nicholson, Somerset County Council lead member for Children's Services commented: 'It's fantastic to see Polden Bower, such a significant project and investment, being realised.
'The new building will be a real asset to Somerset and for our children and young people with special educational needs and/or disabilities, their families and carers. It's a tremendous achievement, and I want to thank everyone involved for all their hard work from the initial thought right up to now when it's ready for the children and young people to come in.'