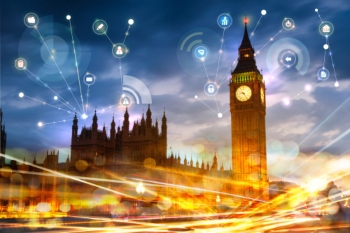 In the HPE original film 'Consciously Hybrid' we uncovered the realities of digital transformation across the public sector and the utilisation of 'public sector' as an umbrella term came into question on multiple occasions. All too often the 'public sector' is considered a collective. While sub-sectors experience similar pain points, each has unique challenges and nuances that can prevent conscious digital transformation.
There was a ubiquitous flashpoint in the sector's digital journey, the 2013 'Cloud-First' policy - a government mandated strategy encouraged public cloud adoption across the sector. The effects of this policy are still felt today, with many organisations finding themselves in an unplanned state of flux supporting two operating models. The traditional, static model around their legacy and on-premises technology and the new, consumption-based utilisation of the public cloud providers.
This piece explores the challenges affecting local government and their impact on transformation, cloud adoption and ultimately the experience of the citizens they support.
The local government landscape
Historically, many local government services have been conducted in-person, using traditional paper-based methods, leading to criticism that they are 'behind the times' compared to other central government agencies. This criticism is something we frequently heard in our research, however, it is crucial we understand the nuances of local authority digital transformation before casting aspersions.
The 'Digital Maturity in Local Authorities' report by the Digital Buying Guide service found that out of 301 local authorities outside of London, just 24 (8%) were in the top tier of digital maturity, with the remainder split between the middle tier (those who have a desire for change and are beginning their digital transformation journey) and the bottom tier (those using legacy systems).
Local authorities, depending on their region's reach, can offer in excess of 50 citizen services, of which many are provided by independent, specialised suppliers and solutions. Integral as they are, often these solutions are built into the fundamental infrastructure of the authority, providing a reliable, albeit dated backbone. These 'legacy' technologies have likely been heavily invested in and are so fully integrated, migration to the public cloud may not be appropriate.
Coupled with the responsibility of spending the public purse wisely and adhering to government-led policies, this can create a level of inertia and confusion in strategic direction - which is not surprising.
Digital maturity is just one of the challenges hindering digital transformation within local government. Lack of investment also significantly impacts the ability to attract skilled professionals, resulting in a significant skills gap across regions.
Despite the necessity of local government services, it has experienced huge cuts to its central government grant over the past ten years. In 2009/10 it received £41bn (£120m per local authority); a decade later, in 2020/21 it received just £26bn (£76m per local authority).
As a result, local government is forced to look for new ways to drive efficiencies and satisfy the ever-increasing consumer demand for digital services.
The vast spectrum of local government transformation
In 2021, we conducted a 'Cloud Strategy' freedom of information request to ascertain local authorities' approach to cloud and transformation. 55% of local council respondents reported that it took five years, since the launch of Cloud-First policy, to establish and implement their cloud strategy. Of the 44% that reported an intention to utilise public cloud, 20% will focus on a hybrid approach, with 23% focused on 'Cloud-First'. Despite 23% citing a 'Cloud-First' approach, just 10% reported the intention to move 100% of their infrastructure to public cloud in the next five years.
The intention to continue to utilise on-premises infrastructure is a notion apparent across local government and our research suggests a number of reasons for this.
As previously discussed, digital maturity and legacy technology can hinder authorities' ability to fully migrate to the public cloud. More than 70% of local government respondents reported that more than half of their applications and workloads remain on-premises and 74% reported over half of their data remains on-premises.
There are a number of viable reasons as to why on-premises infrastructure is necessary - many of which were referenced during our research. Concerns around funding paths, data privacy, data residency and classification, and lack of in-house skills are prevalent across local government.
Digital services = increasing levels of data
Local authorities are dealing with larger and larger datasets including sensitive citizen data and information and not all data is suitable for migration to public cloud.
For example, historical data may not be classified or labelled with a protective marking, so it has to be assumed to be sensitive. The time and costs associated with cleansing this data often outweighs the benefits. With limited digital resource within local government, data classification, in many cases, calls for a hybrid approach to cloud adoption, in order to benefit from and accelerate digital transformation.
Moving increasing levels of data around various applications can be cumbersome and expensive – an effect known as data gravity. In some cases, it is more efficient to keep data close to the workloads that process it due to, for example, network latency or tightly coupled processes. This requires on-premises infrastructure to benefit from these efficiencies. This reduces the movement of data, minimising the movement between cloud(s) and on-premises and the egress charges and data volume associated with this.
The risks associated with public cloud are often around cyber risk and security controls. It is inevitable, with public cloud migrations, that organisations hand over part of the responsibility of security to the cloud service provider, which, in some cases, is viewed as a risk too large to bear.
Although public cloud poses a data risk and concern for many public sector organisations, hybrid solutions already exist today to both secure and unlock the value of the UK's data. However, many are yet to discover or realise the value of a Consciously Hybrid strategy.
The local government digital skills gap
Digital culture and skills are a significant challenge. The entire sector struggles to recruit and retain the right digital talent due to the availability of higher salaries and greater opportunities to explore new technologies in the private sector.
According to research by Cloud Industry Forum (CIF), 40% of public sector organisations still do not have the right skills in place to adapt to ongoing digital transformation. When the National Audit Office asked digital and technology leaders why these gaps exist, 78% blamed 'external market conditions', 67% limited supply, 58% procurement constraints and 50% organisational culture.
The Digital Maturity report, described the need for the following steps to improve in digital skills: good, visible leadership for digital transformation. The work this leadership carries out and how they achieve it should be communicated across the organisation. Finally, digital, data and technology (DDaT) roles should be embedded within the organisation.
These steps echo the need for a step-change in digital culture and the perception of local authorities. The talent pool is hampered by the appeal of technological pace and innovation in the private sector. However, altruistic individuals seeking real-world impact from their role exist. These individuals should be actively sought and cultivated to encourage transformation cultures within local authorities.
We also found a discrepancy between cloud adoption across the country, with those further away from London investing less per capita. This could be reflective of the availability of skills in and around London, as opposed to more rural areas in the UK. This disparate sprawl of skills is something local authorities have to contend with.
However, as digital transformation rises on the local government agenda, regional organisations are being created to share knowledge, skills and learnings. For example, The London Office of Technology and Innovation helps boroughs work together to bring the best of digital and data innovation to improve public services and outcomes for Londoners.
These organisations aim to develop digital frameworks and regional strategies to bridge and support any gap in digital skills. With larger authorities encouraged to share research and findings from the implementation of digital innovation to enable smaller authorities to benefit from time and resource already invested.
Digital skills is a ubiquitous challenge across the public sector and something that HPE is committed to resolving. Providing access to educational experiences that enable public sector technologists to discover more efficient digital transformation strategies, emerging technologies, and sector specific applications.
Local authorities – A path to conscious transformation
For local authorities to accelerate their digital transformation and address the issues of legacy technology, reduced funding and digital skills challenges, we believe it's time to critically review digital estates, infrastructure and strategies.
There is a growing movement for the public sector to become conscious of their cloud transformation and we're here to guide you. The pandemic has been a huge catalyst for digital transformation in local government, but now is the time to maintain momentum and join a conscious transformation revolution that drives the nation's digital ambition.
Russell MacDonald is chief technologist at HPE