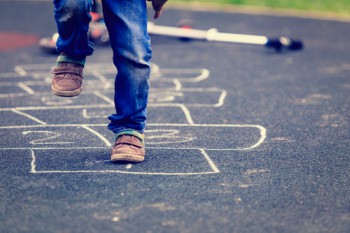 Closing roads to allow children to play in the street can help make them five times more active, a new report has revealed.
An evaluation of the three-year Street Play project by the University of Bristol has found street closures made a 'meaningful' contribution to daily physical activity targets for children.
It also found outdoor play when roads were closed were likely to replace sedentary and screen-based activities.
Professor Angie Page from the University of Bristol said: 'This resident-led intervention shows the potential for meaningful increases in physical activity as well as social benefits to both children and the communities in which they live.
'It is relatively low cost, scaleable and potentially sustainable – this is why it makes sense for public health.'
A second report has also highlighted the range of factors likely to influence the success of street play initiatives in disadvantaged areas. It recommends adapting the model for housing estates, and streamlining local authority application procedures.
Tim Gill, author and researcher of the report, said: 'My study shows that play streets are not just for up-and-coming urban areas and leafy suburbs: they can succeed in poorer areas too. However, local authorities must make the bureaucracy as simple as possible, and give practical help to residents, if they are to reach the most disadvantaged neighbourhoods.'