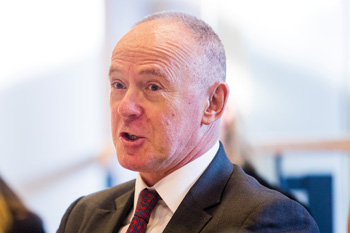 The leader of Manchester City Council, Cllr Richard Leese, has announced his intention to step down after a quarter of a century at the head of the local authority.
Sir Richard, who is also the deputy mayor of Greater Manchester, said the decision was an 'entirely personal decision reflecting my personal priorities for the next few years'.
First elected to the city council in 1984, Sir Richard became leader in May 1996, just one month before the IRA detonated a bomb in Manchester's city centre.
During his time in office, Manchester hosted the Commonwealth Games and the east of the city experienced considerable levels of regeneration.
Sir Richard was knighted for his services to local government in 2006.
In 2014, he was a signatory to the Greater Manchester devolution agreement with the Government, which gives greater powers to the Greater Manchester Combined Authority working together with a directly-elected mayor.
He was appointed deputy mayor of Greater Manchester in May 2017, the same month there was an Islamist terror attack against the Manchester Arena.
Sir Richard said that his decision to leave did not affect his commitment to Manchester.
'My commitment to the city and the city region remains undiminished and I am confident that with a strong body of councillors determined to deliver the Our Manchester Strategy supported by an excellent political executive, a Strategic Management Team as good as it has ever been, thousands of great council workers, hundreds of enthusiastic partners and good potential candidates to take my place, the work will continue to enable COVID containment and recovery, and build a healthier, wealthier, happier, fairer and greener Manchester,' he said.
'It has been an enormous privilege to serve the people of Manchester over this period of time and my heartfelt thanks goes to the thousands of people who have worked with us over the last 25 years.'
Joanne Roney, chief executive of Manchester City Council, said: 'Sir Richard is a towering figure in the life of Manchester, which has been transformed during more than a quarter of a century of his leadership from a declining, post-industrial city to the fastest growing city in the UK which can face the future with confidence.'