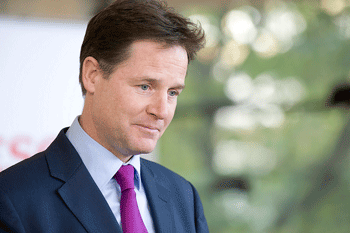 Nick Clegg has branded West Yorkshire council leaders 'churlish and sour' following their disapproval of devolution measures announced last week.
A new City Deal for the combined authority confirmed in chancellor George Osborne's Budget was dismissed as 'disappointing' by local leaders, with concerns raised that the plan fell short of power sharing commitments extended to Greater Manchester.
Chair of the West Yorkshire Combined Authority, Cllr Peter Box, said the move 'undermined' Government commitments to creating a northern powerhouse, with the region needing 'real devolution, including fiscal devolution, to enable us to bring about a step change in the city region's economy'.
Speaking in the Commons this week, the deputy prime minister described the measures as 'a very significant transfer of power' and questioned why councils had decided to pour scorn on the plan.
Clegg said: 'I was struck by the rather churlish and sour note coming from a number of Labour leaders in West Yorkshire about a deal that amounts to a very significant transfer of power, money and responsibility to Leeds and the west Yorkshire area.
'It was warmly welcomed by Roger Marsh, the chair of the Local Enterprise Partnership,' he added.
'It would be much better if we could work on a cross-party basis to welcome rather than denigrate those steps towards further devolution.'
The deputy prime minister later voiced concerns about outlying regions failing to see funding garnered through local growth deals and called for agreements to be 'constructed in a way that allows both rural and urban areas to be included at every stage'.