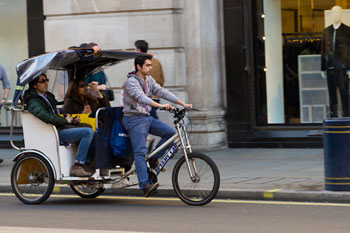 A busy thoroughfare in the City of London is set to become the UK's first street where polluting vehicles are banned all year round.
Beech Street, much of which runs under the Barbican Estate, is now expected to be restricted to zero emission vehicles, cyclists and pedestrians by Spring 2020.
Once Transport for London (TfL) has given its final approval, the experimental traffic order will run for a maximum of 18 months, during which time the impact on air quality and traffic will be monitored.
Exceptions will be provided for emergency vehicles, access to the car parks off Beech Street and for refuse collection and deliveries.
The scheme aims to bring nitrogen dioxide (NO2) levels within air quality guidelines set out by the European Union and World Health Organisation.
The City of London also hopes it will improve the air quality around Richard Cloudesley School and Prior Weston Primary School.
'This is a groundbreaking scheme by the City of London Corporation,' said streets and walkways sub planning and transportation committee chairman, Oliver Sells QC.
'It will bring substantial health benefits to those who live and work in the Barbican area, and will also help reduce noise pollution.
'The experimental scheme will be enforced using the latest in smart camera technology and I hope it will be the first of many other schemes like this.'
The chair of the City of London Corporation's environment committee, Jeremy Simons, said: 'These measures are another important step towards cleaner air in the City.
'Drastically reducing air pollution requires radical actions, and these plans will help us eliminate toxic air on our streets.
'Nobody should have to breathe in dirty air, and we will continue to take bold and ambitious steps to ensure that the health of Londoners is protected.'