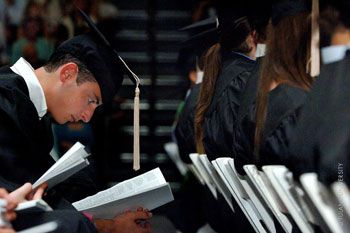 UK cities are suffering a 'brain drain' as high-achieving graduates critical to driving economic growth flock to London.
A new report from think tank Centre for Cities has found a quarter of all new graduates (24%) from UK universities in 2014 and 2015 were working in London within six months of finishing their degree.
The report, entitled The Great British Brain Drain: where graduates move and why, also discovered London was 'far outperforming' other cities in drawing talented graduates from leading UK universities.
Last year, the capital attracted more than a third (38%) of new Russell Group graduates with first-class or upper-second class degrees. This was around 13 times more than Manchester, the second most popular destination for this group.
The Great British Brain Drain also discovered over half (52%) of Oxbridge graduates moved to London for work, compared to just 2% in Birmingham and Bristol.
Centre for Cities argued graduate decisions on where to move to after university were shaped mostly by the relative economic attractiveness of places and the opportunities they offer rather than policies such as graduate wage subsidises.
They recommended cities should focus on developing their economies and encouraging home-grown talent.
'The Government will not achieve its vision of extending prosperity and growth across the country unless it takes steps to help more cities attract and retain the UK's top talent,' said Centre for Cities chief executive Alexandra Jones.
'Wage subsidies and other specific graduate-retention policies will not tackle the root causes of this issue – instead, the priority for national and local leaders should be strengthening city-region economies, and increasing local demand and opportunities for graduates.
'In the Autumn Statement, the Government should therefore focus on boosting economic growth in city-regions across the country by investing in large-scale housing and transport projects.
'It should also use the new economic and industrial strategy to reinforce and complement the devolution deals currently in place for city-regions like Greater Manchester, to give them greater scope to grow their economies, and to develop and attract talented workers.'