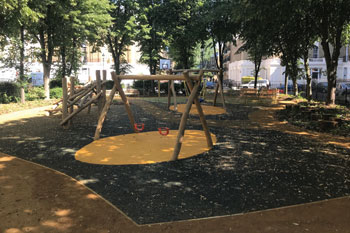 Despite visiting Milner Square on one of the wettest day's of the year so far, it's obvious why our judges chose this scheme as the winner of our Children's Play category.
Even torrential rain couldn't hide the remarkable transformation of this once neglected and under-used area. As our judges from Play England pointed out, this scheme does 'everything you would want from spacial development'.
In 2015, the London Borough of Islington concluded that Milner Square needed a revamp. Measuring 0.19 hectares and flanked by residential properties, the square consisted of a sunken tarmac area surrounded by four metres of chain-link fencing, a small grassy area and some toddler's play equipment, including a small slide, a roundabout, and a disused brick hut.
Close monitoring of Milner Square's entrance revealed that local residents did not use the space. The council learnt that most people only used it as a way of getting from one side to the other. The play area was sometimes enjoyed by children of toddler-age shortly after school drop-off and pick-up times and the tarmac hardstanding on the north – which was not Disability Discrimination Act compliant – appeared to invite the odd cyclist and dog owners wishing to exercise their pets. Only rarely, however, did locals stop to spend time in the square.
After three rounds of consultation between October 2015 and October 2016 it was confirmed that users wanted to create a 'playable garden square' that provided residents a space to enjoy. The council concluded from these discussions that it would increase the amount of green space and play opportunities in Milner Square. It also learnt that it needed to increase plant biodiversity, improve access, and create a welcoming, safe and maintainable space.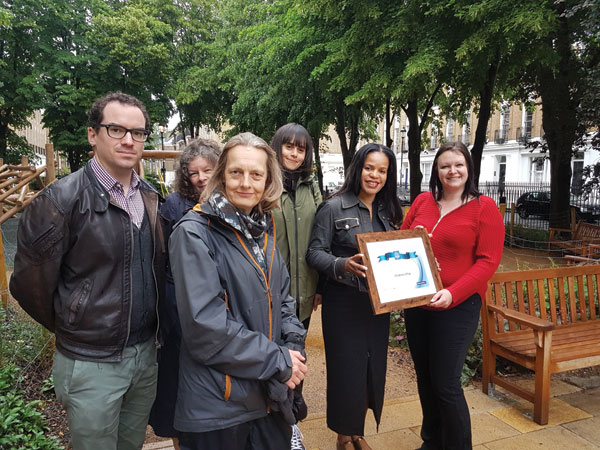 The parks service appointed landscape architect consultancy LDA Design in February 2016 to come up with a design that incorporated these improvements. Working with stakeholders, including residents, park users and internal council departments, a design was soon agreed that removed the internal fencing dividing the north and south sides of the square, raised the sunken hardstanding, repainted the perimeter fence and installed self-closing Easy-Gates.
This new design allowed for a more integrated and free-flowing space and created a new 'play landscape'. This play area was covered in bound tiger-mulch safety surfacing and new equipment was installed, including a timber climbing frame, swings and a Panna ball court with basketball hoop. A 'tree-trunk trail' was also put in to further challenge and diversify the opportunity for play.
The southern side of the square was transformed into a woodland garden with a new lawn and seating. A landform was created on this side to complement a toddler slide set in a 'Matta' safety surface so that smaller children could enjoy time away from the larger more challenging play in the north. The brick hut was media blasted to restore its original brickwork and a number of benches were installed to create a space that encouraged users to sit and relax.
A circuitous perimeter path of Coxwell self-binding gravel was created in order to increase access. This also provides an opportunity for children to use skates, bikes and other wheeled equipment.
The build took 14 weeks to complete and the improvements have been very well received by users and the wider community. Antisocial behaviour in the area has fallen since the square reopened and the council reports that usage has increased exponentially.
Milner Square, according to the council and our judging panel, has been transformed from an underused tarmac space to a 'peaceful and calm oasis'.
Submitted by: Lara Ellington-Brown, Parks Service Project Manager, Islington LBC
Landscape Architect: LDA Design
Contractor: Warwick Landscaping
Suppliers: Jupiter Play, Massey & Harris, Soft Surfaces, Playsmart UK, Easy-Gate and Tobermore
You can visit the Street Design Awards website for further details about the competition.