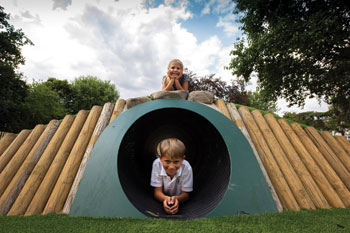 Helping different local communities to share public spaces is not always an easy thing to achieve, but the regeneration of Godley Gardens in Wandsworth, London has managed it perfectly.
Godley Gardens is surrounded by quiet residential streets, providing a shared space for neighbouring residents. However, it wasn't being used by everyone in the local community so Enable Leisure and Culture set out to change this.
Enable Leisure and Culture is a not for profit company that manages parks and green spaces on behalf of Wandsworth Borough Council. They put the local community at the heart of the project from day one by asking residents what they would like to see happen in an online consultation.
Godley Gardens has always been a dog friendly green space but residents wanted to attract new users to the garden and offer new opportunities for doorstep play. A new play area using natural looking play items has now been created, with a play tunnel set into an astro-turf hill to stimulate imaginative play.
Safety was improved for older children through the installation of a net to prevent footballs entering the surrounding roads. Other improvements include the development of a new pathway, new benches, improved entrances and landscaping. Additional dog waste bins have also been added, along with new signage.
The judges felt this scheme showed perfectly what can be achieved on a relatively small budget. Not only has the space been made more inviting and welcoming to all of the local community, it has also managed to retain its style as a garden.
Submitted by: Neil Blackley, Head of Parks, Enable Leisure and Culture
Design: Wandsworth Council Design Services
Contractor: Warwick Play