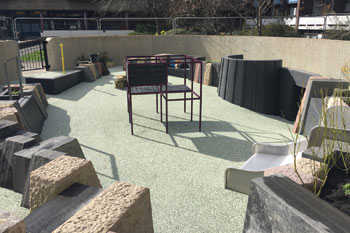 Play facilities have to be fit for the modern age. It was this understanding that drove the residents of the Golden Lane Estate to call on their local authority to refurbish their 'unsightly' and 'under-used' playground.
Golden Lane Estate is located on the eastern edge of the City of London and is widely considered to be one of the most important post-World War II developments.
Powell, Bon and Chamberlin, the architects who designed the estate, aspired to create an 'urban village' with high density housing blocks intertwined with a range of community services and facilities, including a play provision.
Conceived as a sunken pit for ball games, with a retaining wall of elliptical shape and exposed concrete surroundings, it was a play area for older children in the late 1960s and a facility for young children in the 1980s.
The playground, however, became outdated as the decades passed. In recent years, residents complained of poor access; lack of visibility from the podium; incidents of anti-social behaviour due to its sunken nature. It also suffered from poor drainage and decay.
In response to local concerns, the council agreed it was time to refurbish the playground. Residents were invited to an initial workshop to establish general aspirations and out of this a residents' design group was formed to ensure the new play area met residents' expectations.
An architect was then appointed and, together with the group, they travelled around London to get a better idea of which play equipment and playground designs would/would not work in the new Golden Lane Estate. This research informed the development of the concept design.
Year 6 children at the local school also took part in a design workshop, which included observation exercises, drawing and model-making. Designs were submitted to the city planning authority and statutory consultees early on to ensure to avoid wasting resources on designs that would not be viable in planning terms. It was decided that raising the ground to podium level would work as long as topography was created to maintain the historic reference to the WWII bombing of the Golden Lane area.
The residents' design group was then provided three options to choose from. They chose one which maintained the historical use of geometric shapes and bright colours. It also had play equipment that provides the right level of challenge for children under five, such as tunnels and a slide.
The public was then consulted on the final design, and local resident workshops were organised to inform the gardening aspects of the play area and a design of a mural.
Submitted by: Leila Ben-Hassel, Project Manager, City of London Corporation
Design: Muf (with local residents)
Contractor: Ground Control
You can visit the Street Design Awards website for further details about the competition.