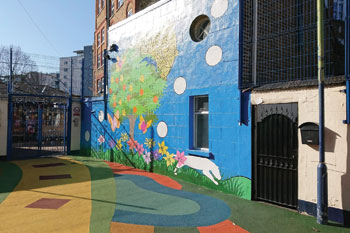 The Mayor of London's Healthy Streets Approach seeks to transform the capital into a greener and healthier place by improving air quality and encouraging exercise. By 2041, Sadiq Khan hopes, 80% of all trips in London will be made by walking, cycling or public transport, and all Londoners will be doing 20 minutes of active travel each day.
One measure that some London boroughs are adopting to help meet these targets is pedestrianisation outside of schools. The closure of Salmon Street - the location of the Tower Hamlets school Sir William Burrough Primary School - is a good example of such a project.
Tower Hamlets LBC identified Salmon Street as the ideal spot to help improve the walking and cycling environment for young pupils. To this end, they commissioned Project Centre to carry out the design and consultation on pedestrianisation.
Project Centre talked to pupils from Sir William Burrough Primary School and their parents to gauge reactions to proposals to close the road outside of the school. They discussed what the pupils enjoyed most on their journey to and from school, and workshops were held on the communities history and road safety.
Project Centre learnt that nautical themes due to Sir William Burrough's naval background were important, as were water features and flowers and trees. They then liaised with Tower Hamlets to ensure any design met the requirements of the public realm, communities, localities and culture department, and consulted with the council's planning and building control.
The final design, which included a mural on a wall, a new zebra crossing and a colourful play area that includes four purple seats, was utilised by JB Riney to deliver the project. The contractors used wet pour 'rubber crumb' safety surfacing for the play surface. This was chosen for its anti-aging properties as well as the stress absorbing membrane its elastic properties create.
The Salmon Street scheme demonstrates that it is possible to transform small spaces in built up urban areas to meet the Healthy Street indicators. It managed to transform a space that was difficult to use and uninspiring for children into an area that promotes play, activity and socialising.
Submitted by: jack Dean, Bid Administrator, Project Centre on behalf of Paul Adams, Business and Commercial Director Project Centre
Design: Project Centre
Contractor: JB Riney