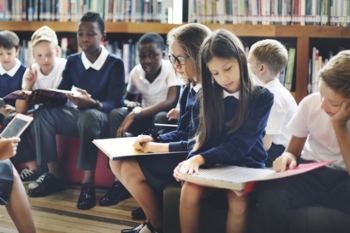 Waterstones Children's Laureate has written an open letter to the Prime Minister calling for a £100m yearly ring-fenced fund for primary schools libraries.
Cressida Cowell has warned there is a 'vast inequality' in the current primary school library provision. She said that many vulnerable children are in schools that cannot provide them with even an adequate school library.
The letter, which is supported by former Laureates and literacy organisations - says that £100m a year would enable every primary school in England to invest in the books, expertise and space needed to provide an excellent school library service.
Ms Cowell wrote: 'In 2019, the Great School Libraries report found a lack of space, resource and expertise, and that libraries are deteriorating. Whilst every prison has a statutory library, one in eight primary schools has no library space at all.
'Worse still, schools with a higher proportion of children on free school meals were more than twice as likely not to have access to a designated library space.
'These children from the poorest communities will be the most impacted, with reports such as from the Sutton Trust warning that they are going to fall further behind. It is these children, and their families, whose voices are not always heard, and I am using my platform as Waterstones Children's Laureate to speak out on their behalf. This is not something that can wait. We must act now.'
Research by the OECD shows reading for pleasure is a bigger indicator of a child's educational success than their parent's socio-economic status.