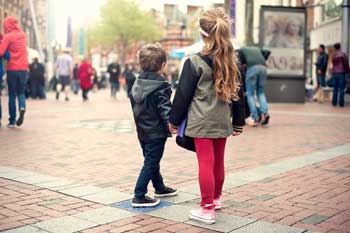 Thousands of children are growing up in unsuitable temporary accommodation, the Children's Commissioner has warned – a state of affairs council chiefs blame on the lack of funding for homelessness services.
A new report from Anne Longfield, the Children's Commissioner for England, shows that there are 216,000 children in England living in temporary accommodation.
The report, entitled Bleak houses: Tackling the crisis of family homelessness in England, says that the official number of children in temporary accommodation (124,000) does not include the hidden homeless who are 'sofa-surfing'.
It is estimated that in 2016/17 there were 92,000 children living in sofa-surfing families.
The commissioner's report also warns that official figures fail to capture a 'small but highly vulnerable' group of homeless children who have been placed in temporary accommodation by children's services rather than by the council's housing department.
This latter group includes families who have been deemed to have made themselves 'intentionally homeless', and those with no recourse to public funds as a result of their immigration status.
The Children's Commissioner, who published the report today, also questioned the use of the term 'temporary accommodation'.
The analysis suggests that in 2017 around four in 10 children in temporary accommodation – an estimated 51,000 children – had been there for at least six months, and around one in 20 (6,000) had been there for at least a year.
The report also warned that temporary accommodation, such as B&Bs and converted shipping containers and office blocks, is frequently not fit for children to live in.
'Something has gone very wrong with our housing system when children are growing up in B&Bs, shipping containers and old office blocks,' said Ms Longfield.
'Children have told us of the disruptive and at times frightening impact this can have on their lives. It is a scandal that a country as prosperous as ours is leaving tens of thousands of families in temporary accommodation for long periods of time, or to sofa surf.
'It is essential that the Government invests properly in a major house-building programme and that it sets itself a formal target to reduce the number of children in temporary accommodation.'
Responding to the report, the Local Government Association's housing spokesman, Cllr Martin Tett, said: 'Councils desperately want to find every family a good quality, secure home, and prevent homelessness from happening in the first place.
'However, the severe lack of social rented homes available in which to house families means councils have no choice but to place households into temporary accommodation, including – in emergencies – bed and breakfasts.
'With homelessness services facing a £159m funding gap next year (2020/21), the Government needs to use the upcoming Spending Round to ensure councils have long-term sustainable funding to prevent homelessness, and give councils the tools they need to resume their historic role of building homes with the right infrastructure that the country needs.'
Cllr Tom Beattie, vice chair of the District Councils' Network, called on the Government to consider the 'wider causes of homelessness' and urged Whitehall to give councils the necessary powers to tackle the issue.
'This means ending the freeze on Local Housing Allowance and ensuring that it cover the costs of housing, scrapping permitted development rights, and giving councils the freedom to deliver affordable housing at scale again including by allowing them to keep 100% of Right to Buy sales receipts,' he said.
A Government spokesperson said: 'No child should have to live in dangerous accommodation and we are working to ensure all families have a safe place to stay.
'We have invested £1.2bn to tackle all types of homelessness, and we are working closely with councils across the country to reduce the number of families in temporary accommodation. In just two years, our team of specialist advisors have helped councils to reduce the number of families in B&B accommodation for more than six weeks by 28%.'
The Children's Commissioner's report comes as the Housing, Communities and Local Government Committee warns that cuts to council funding were leaving local authorities with little choice but to provide 'bare bones' levels of service.