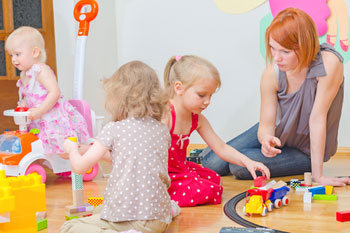 Government funding for nursery school places often fails to cover the costs for those providing the care, local authority leaders have warned.
Responding to the latest survey by the Coram Family and Childcare charity, Anntoinette Bramble of the Local Government Association said the funding for 30 hours of free care is insufficient.
She says support for children with special needs is also at risk as providers try to make ends meet.
According to Coram parents now pay an average of £127 per week, or more than £6,600 a year, for a part time nursery place, a 3% rise in the last year.
One in four councils said the free 30 hours scheme was pushing up childcare prices for three and four year olds, while one in three said it was having a negative impact on the financial sustainability of childcare.
Cllr Bramble said: 'The intention behind the 30 hours free childcare scheme is good, but the funding provided by Government does not cover the costs for providers in many cases.
'We are also concerned that the quality of provision and support for children with special needs will fall as providers cut additional support to make ends meet.'
Megan Jarvie, head of Coram Family and Childcare, said: 'Recent Government investment is welcome, but as prices continue to rise, families remain at risk of getting left behind.'