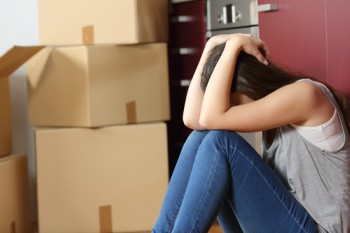 Nearly a quarter of a million private renters have fallen into rent arrears since the pandemic started, a homelessness charity has warned today.
Shelter said 227,000 adult private renters could lose their home when the ban on evictions ends on 23 August.
The research shows shows that 174,000 private tenants have already been threatened with eviction by their landlord or letting agent.
Polly Neate, chief executive at Shelter, said: 'The housing secretary can still avert this disaster. He can prevent these 'Covid-evictions' as the pandemic continues and keep families safe in their homes. All he and the government need to do – in the 10 sitting days before Parliament breaks for the summer - is make some small changes to the law.
'These changes would give judges the power to ensure that no renter is automatically evicted, and the impact of coronavirus is always considered.'
However, the National Residential Landlords Association (NRLA) said the vast majority of landlords were doing all they can to sustain tenancies.
Chris Norris, policy director for the NRLA, said: 'It is important though to distinguish between tenants affected by COVID-19 and those who were building rent arrears before lockdown, sometimes for several months and sometimes wilfully.'